'GOOF PROOF' & 'PRECISELY MY' BROW PENCILS
Brand:
Price: 
Fit: 
Why I love it:
Benefit
€ 29
NA
The best brow pencils I have ever used. My brows are very thin and sparse. Did too much plucking in the 90's… Iol So I use the 'Goof Proof' pencil (which  is thicker) to create the shape I want and fill my brows in. Then I go in with the 'Precisely My' (which is super thin) and make little hair-like strokes focusing at the front of my brows. I finish with a dark brown mascara to pick up and enhance the brow hairs I do have to give a more natural-looking brow.
KNEE HIGH BOOTS WITH CONE HEEL
Brand:
Price: 
Fit:
Why I love it:
Mint & Berry
€ 125 
Falls a bit big, size down if you're in between sizes
All the Isabel Marant vibes for way, wayyy less. I love Isabel Marant boots, but I'd rather not spend € 900 on boots that I'll only wear 4 to 5 months out of the year. Also, because IM boots are so visible, they tend to look dated after a few years. These Mint & Berry boots just different enough to escape looking too trendy. I love the wood detail on the heel and the fact that they're super comfy despite the 8cm heel. 
Wool Blend Bobble Sweater
Brand:
Price:
Fit:
Why I love it:
& Other Stories
€ 89
True to size
A real hero piece in my wardrobe. It goes with everything, and the little bobbles give it a fun, whimsical vibe.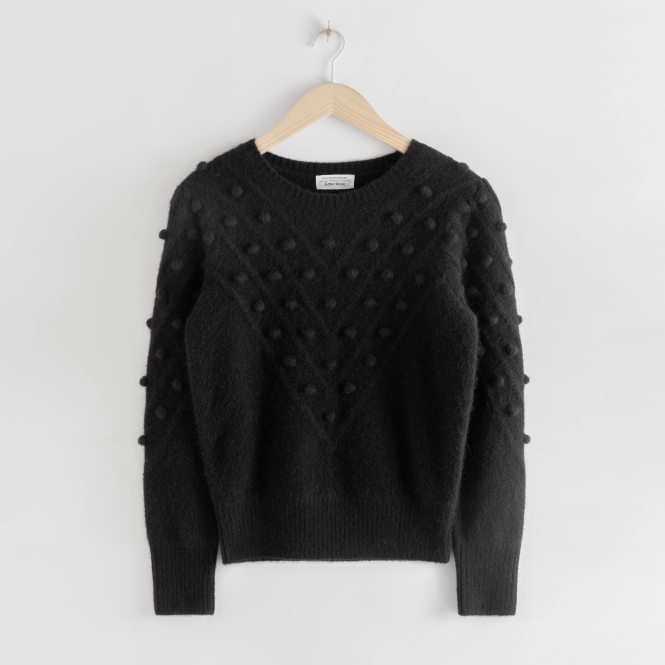 Organic Cotton Long Sleeve T-Shirt
Brand:
Price:
Fit:
Why I love it:
& Other Stories
€ 29 
True to size. I went up a size to get a more relaxed fit.
The quality is fantastic. The material is nice and thick, perfect for winter, and the fit is perfect. I love it so much; I bought two. My only gripe is that & Other Stories don't make this tee in black as well. 
Brand:
Price:
Fit: 
Why I love it:
This Works
€ 25
NA
I bought a little 10ml bottle of this spray as an in-flight purchase to try it out. Sprayed it on my hotel pillow, and I was hooked. I've never slept so well in a hotel bed before. Now it's a staple on my nightstand. I also love that the sample bottle is refillable, so I can take it with me when I travel.